Gambero Rosso's "Tre Bicchieri" award goes to the 2016 Campolungo Gran Selezione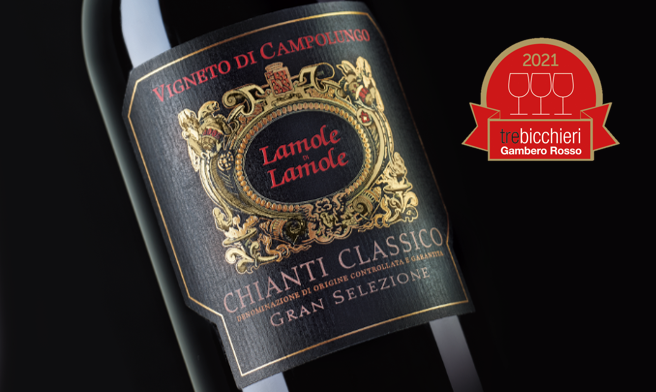 After a few years in which Gambero Rosso's highest rating had been given to our other Chianti Classico wines, the Guide's outstanding award has again been won by Vigneto di Campolungo, the wine that – 9 years ago – inaugurated an uninterrupted series of such top accolades for the Lamole di Lamole winery.
The Gambero Rosso judges have thus confirmed both the exceptional nature of the 2016 vintage and our winemakers' mastery in forging from it a Chianti Classico Gran Selezione with a sensory profile that enthrals  with its elegant, rich aromas and beguiles with its élan and depth on the palate.
The grapes for the production of this wine come from a single vineyard, Campolungo, lying at between 420 and 576 metres above sea level and resting on glistening quartz rock, distinctive elements that give rise to grapes with amazing quality potential.
With this award, Lamole di Lamole has won the "Tre Bicchieri" rating for no less than 9 consecutive years:
-2021 Ed. – Chianti Classico DOCG Gran Selezione Vigneto di Campolungo 2016
-2020 Ed. – Chianti Classico DOCG 2016
-2019 Ed. – Chianti Classico DOCG Blue Label 2015
-2018 Ed. – Chianti Classico DOCG Blue Label 2014
-2017 Ed. – Chianti Classico DOCG 2013
-2016 Ed. – Chianti Classico DOCG Blue Label 2012
-2015 Ed. – Chianti Classico DOCG Gran Selezione Vigneto di Campolungo 2010
-2014 Ed. – Chianti Classico DOCG Gran Selezione Vigneto di Campolungo 2009
-2013 Ed. – Chianti Classico DOCG Gran Selezione Vigneto di Campolungo 2008